"Baltic Culture and Tourism Route Fortresses"
INTERREG-III-B-project from 2005 to 2007
Project development and project management: GKU Standortentwicklung GmbH
- Information about the project development, progression and management: www.gku-se.de - Official project website from project lead partner City Kostrzyn nad Odra: www.bfr.pl
The INTERREG-III-B-project "Baltic Culture and Tourism Route Fortresses" was a successful development project in the Baltic Sea Region containing different practical results for the protection, utilisation and management of fortress heritage. The first European culture route to the fortress heritage "Baltic Culture and Tourism Route Fortresses" was created in the course of this project.
For the first time in Europe, fortresses from different countries branded a new tourist product on the cultural tourism market and started the marketing with the use of one common label. 14 fortresses in Germany, Poland, Lithuania and Kaliningrad/Russia are part of the "Baltic Fourt Route".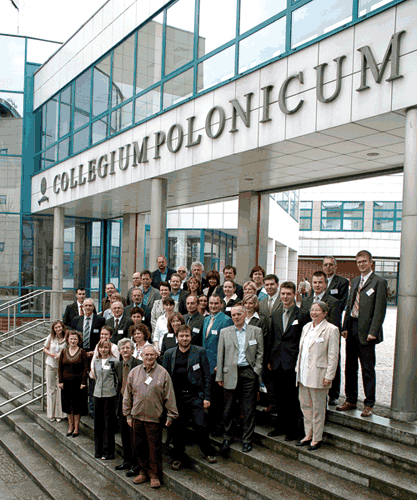 BFR Kick-Off Meeting,
Slubice (Poland) 2005
Dr. Andrzej Kunt, Major City Kostrzyn nad Odra, PL (re) and Hartmut Röder, Coordinator EU-Projekt BFR (li), at opening ceremony of redeveloped "Berlin Gate" in Oldtown of Kostrzyn, 2007
The heads of ECCOFORT organised the preparation of the project, the development of the project application, and managed the realisation and the foundation of permanent institutions. Lead partner was the city of Kostrzyn nad Odra / Poland.
Members of Baltic Fort Route
Germany:
Fortress Dömitz, Citadel Spandau (Berlin), Fort Hahneberg (Berlin), Fortress Peitz, Fort Gorgast
Poland:
Fortress Kostrzyn nad Odra, Fortresses Kolobrzeg, Fort Hagelsberg (Gdansk), Fortress Weichselmünde (Gdansk), Fortress Modlin, Fortress Boyen, Fortresses Swinemünde
Lithuania:
Fortresses Kaunas
Russia:
Fortress Königsberg
Have a look at the geographical map with all the fortress members (Google Earth is required): Fortresses of Baltic Fort Route (BFR)